Access Bee care for a practical 'how to' care for your Australian native stingless bee hive (it's only two pages).
Hives
We provide well established boxed hives with honey supers. The boxes are made of quality cypress wood up to 40ml thick, which ensures good insulation whether it is hot or cold. A double roof is attached for extra insulation.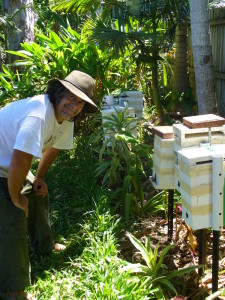 We also supply hives in logs, as nature provided them (pictured below right), and in carved logs with honey supers   to Matthew's  design (such as the one pictured below left), or to your own design.
Other services
Hive rescue – Perhaps you have found hives on land being cleared, or you have a hive in the wrong place (like next to the front door or in a Telecom box).  If you have a hive that needs rescue or moving, we can move it into a box for you or take it away – whatever you prefer.
Splitting hives – if you have an existing box we can teach you how to split it
Robbing honey
Transfer a hive from logs into boxes
Teaching people how to do all of the above
Education Programs /Presentations on native bees
Story telling: "The first didgeridoo"
Honey tasting
Pre & post sales advice
For more information about all of the above please contact Matthew.