Hives for hire for back yard gardens, orchards and crops
Established boxed or log hives of Australian Native Stingless Bees
New empty hive boxes and parts for sale including dividers, double roofs, metal strapping, attachment pipes, crim-safe hive entrance protectors
Carved artistic logs are made to order with the artwork you desire – functional art for your garden
Logs with honey supers available also, carved or natural
Wax and propolis for sale
Australian Native Stingless Bees
We provide well established boxed hives with honey supers. The boxes are made of quality cypress wood up to 40mm thick, which ensures good insulation whether it is hot or cold. A double roof is attached for extra insulation.
We use natural hive duplication (eduction) method of propagating Australian native stingless bees that it's very gentle and can be done without damaging the original nest.
You can buy box or log hive of:
Tetragonula carbonaria
Tetragonula hockingsii
Tetragonula mellipes
Austroplebeia Australis
Austroplebeia essingtoni
(depending on region and availability).
Empty hives for sale
The boxes are made of quality cypress wood up to 40mm thick.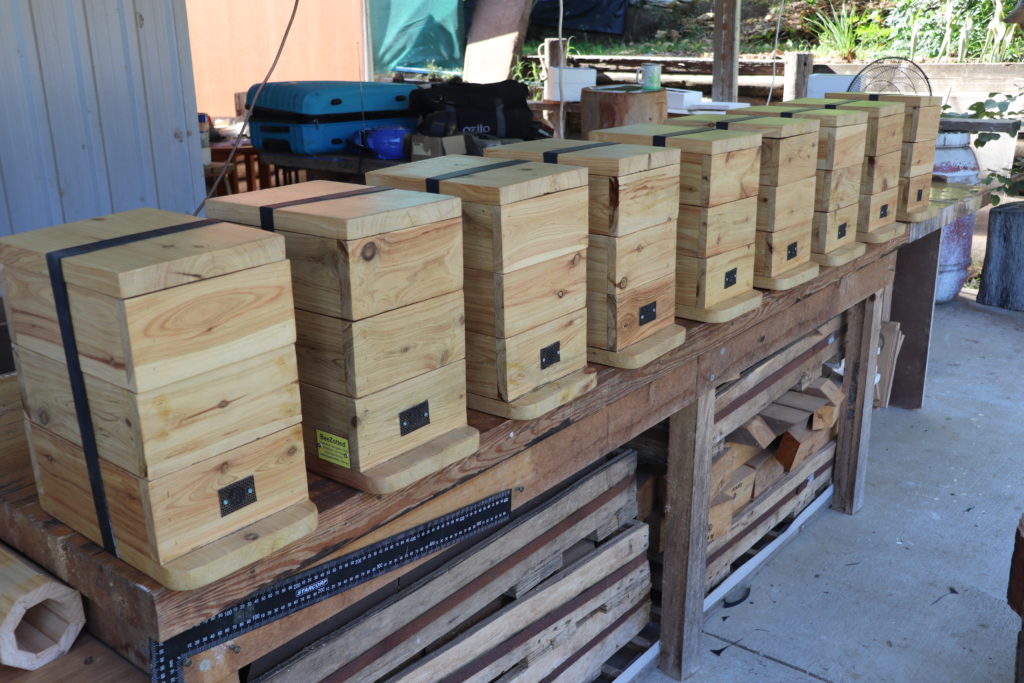 We also supply hives in logs, as nature provided them, and in carved logs with honey supers to Matthew's design (such as the pictures below), or to your own design.
Hive stands
Quality Australian made aluminium hive box frames – $50
Last forever
Looks good
Fits on top of star pickets